Cedar Run Farm Recipes
Recipes From The Farm
Maple Apple Crisp
8 to 10 Granny Smith Apples, peeled and sliced
¾ cup Cedar Run Farm Pure Maple Syrup
⅔ cup flour
1 cup brown sugar
¼ tsp. salt
10 tbsp. butter, cut into small cubes
1 cup quick oats
½ tsp. cinnamon
Preheat the oven to 375 degrees.
Arrange apple slices in a pie plate. Pour syrup over apples.
Mix dry ingredients. Cut butter into dry ingredients until mixture is crumbly, but blended. Sprinkle the oat mixture evenly over the apple slices. Bake for 45 minutes or until apples are tender covering if the topping gets too brown. Serve warm with milk, whipped cream or ice cream.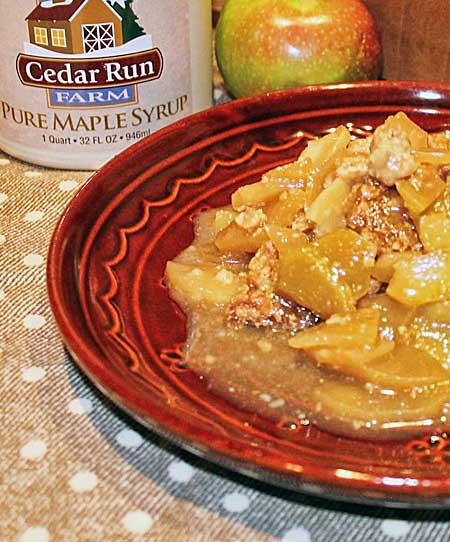 Maple Black Walnut Ice Cream
4 cups cream
3 tbsp. brown sugar
5 egg yolks
1 cup Cedar Run Farm Pure Maple Syrup
½ tsp. cinnamon
1 tsp. pure vanilla extract
⅛ tsp. salt
1 cup chopped black walnuts
Add the cream and sugar to a sauce pan over medium heat. Stir continuously until the sugar has dissolved. When the sugar has dissolved add in the syrup, cinnamon, salt, and vanilla. Stir to combine and let the mixture cook together for about 5 minutes over medium-low heat.
Prepare the egg yolks for tempering. Whisk them together in a spate, heat safe bowl. To temper, take a cup of the hot cream mixture and SLOWLY pour it into the bowl of yolks, whisking quickly and constantly. You must do this in this manner or you will scramble the yolks. Add about 3 cups of hot mixture to the yolks over time using this method to get the yolks to the right temperature for tempering. Once this is complete, pour the yolks mixture back into the saucepan with the remaining cream mixture again whisking quickly and constantly.
Once the eggs are fully incorporated the cream mixture, stir continuously over low heat until the mixture has thickened, about 7 to 10 minutes. Once thickened, return to the heat safe bowl. Let the mixture come to room temperature then refrigerate overnight.
Transfer chilled mixture to your ice cream freezer and freeze according to your freezer's manufacturer directions. Once complete, stir in the chopped walnuts. Store frozen ice cream in a freezer safe container in the freezer. Enjoy!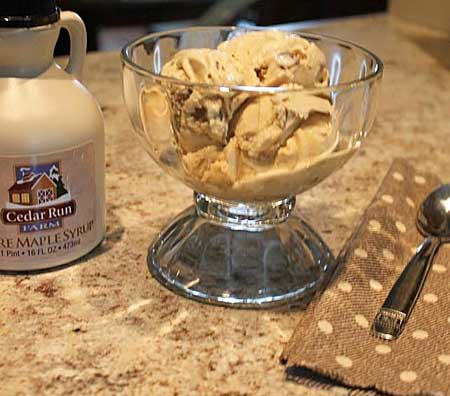 Maple Blueberry Soda
3 cups of water
16 ounces of frozen blueberries
Juice of half a lemon
Small handful of fresh mint
½ cup Cedar Run Farm Pure Maple Syrup
Soda water
Combine all ingredients in a small saucepan. Bring to boil then return to simmer for 20 minutes. Pour berry mixture through a fine strainer into a medium bowl. Press the berries with the back of a spoon through the strainer pushing out as much liquid as possible. Return the juice to the saucepan and return to boil. Once boiling return to simmer for another 20 to 30 minutes until the liquid has reduced to 2 cups of berry syrup. Chill the prepared syrup until cold then serve with soda water over ice.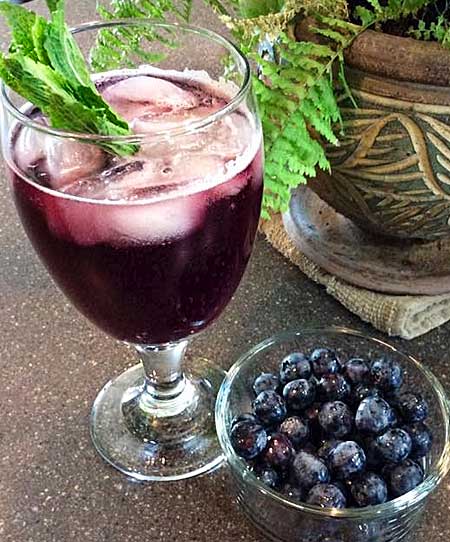 Maple Citrus Grilled Pork Chops
1-½ pound thick sliced pork chops
Dry Rub:
2 tbsp. brown sugar
2 tsp. chili powder
1 tsp. dried thyme
1 tsp. garlic powder
1 tsp. salt
½ tsp. black pepper
Maple Citrus Glaze:
¼ cup Cedar Run Farm Pure Maple Syrup
2 tsp. orange zest
1-½ cup Apple cider
1 tbsp. Dijon mustard
½ tsp. crushed red pepper
Combine rub ingredients. Generously rub pork chops with rub. Refrigerate at least 4 hours.
To make glaze, heat all glaze ingredients in a sauce pan over medium high heat to boiling. Reduce to simmer and keep on simmer 4 minutes.
Heat grill to medium heat and place pork chops on pre-oiled grates. Cook 6 nineties per side or until pork reaches temp acceptable for pork on a thermometer. Baste each side of pork chops with glaze throughout grilling. Once done, let rest for at least 5 minutes to allow juices to redistribute.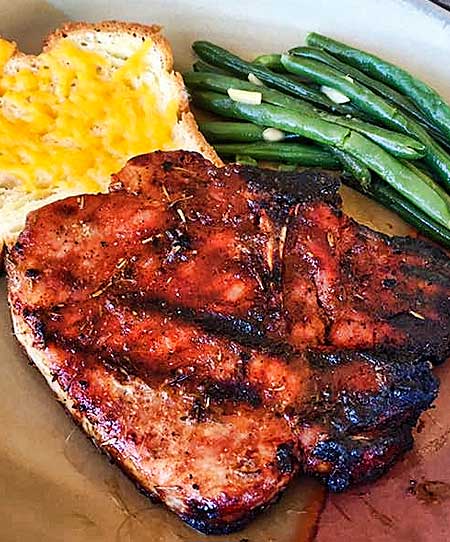 Maple Citrus Sage Turkey
One 14 pound frozen turkey
2 cups hot water
Dry Rub:
3 tbsp. kosher salt
3 tbsp. Cedar Run Farm Pure Maple Syrup
1 tsp. dried, crushed sage
½ tsp. black pepper
Glaze:
½ cup Cedar Run Farm maple syrup
¼ cup unsalted butter
4 tsp. finely grated orange peel
1 tsp. ground chipotle pepper
1 tsp. pepper
Five days prior to cooking turkey, begin to thaw turkey (2 days) until skin gives to the touch. Mix rub ingredients in small bowl then rub over turkey. Place turkey on a rack in a roasting pan. Cover with plastic wrap and refrigerate 3 more days. Remove plastic wrap the night before roasting.
Preheat oven to 450 degrees. Remove the neck and giblets from the turkey. Place hot water in roasting pan with the turkey. Reduce oven temperature to 350 and roast, uncovered for two hours. If the skin browns too quickly in that time, then cover with foil during roasting.
While turkey is roasting, make the glaze. In a small saucepan heat all glaze ingredients until warm.
After the turkey has roasted 2 hours, brush the glaze on the turkey every 20 minutes until the turkey thigh temperature reaches 175 degrees (about another hour). Remove the turkey from the oven and cover loosely with foil allowing turkey to rest for 15 minutes. Serve warm.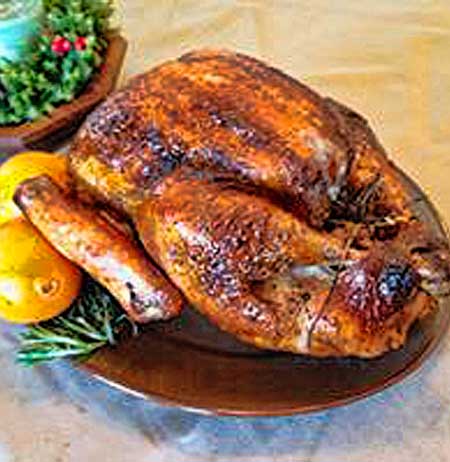 Maple Chipotle Ribs
4 to 5 pounds pork ribs
Dry Rub:
1 tsp. ground ginger
2 tsp. cumin
1 tbsp. black pepper
1 tbsp. dry thyme
2 tbsp. garlic powder
2 tbsp. oregano
1-½ tsp. kosher salt
1 tsp. chipotle powder
Combine all rub ingredients together and mix well. Rub on the ribs and then let marinate overnight.
Sauce:
3 tbsp. olive oil
3 gloves garlic, chopped
1 medium red onion, diced
2 cups tomato sauce
1 cup dark Cedar Run Farm Pure Maple Syrup
¼ cup cider vinegar
2 tsp. chipotle powder
1 tsp. black pepper
½ tsp. ground thyme
1 tsp. salt
Heat olive oil over medium heat and sauté garlic and onion until tender. Add the remaining ingredients bringing sauce to a simmer. Simmer for 35 to 40 minutes. Place sauce in a blender, cover and puree. Place ribs in a single layer on a baking sheet, cover and bake for 1½ hours at 300 degrees. Cut into pieces and brush with sauce. Bake ribs for another 1½ to 2 hours in a covered pan on your grill basting every 15 minutes. Place ribs directly on the grill rack the last few minutes of grilling and then baste them again which will help to caramelize the syrup and add that nice grilled crispiness. Also enjoy this summer favorite recipe as a sauce on pulled pork.
Maple Strawberry Shortcake
Shortcake:
2 cups all purpose flour
½ cup sugar plus 2 tbsp
2 tsp. baking powder
½ tsp salt
1-¾ cup heavy cream plus 3 tbsp
Maple Berries:
2 pounds fresh strawberries, hulled and quartered
1 cup Cedar Run Farm Pure Maple Syrup
Fresh Whipped Cream:
1 cup heavy cream
⅓ cup powdered sugar
1 tsp. vanilla
Preheat oven to 375 degrees. In a mixing bowl, stir together flour, sugar, baking powder, and salt. Add heavy cream stirring just until a dough forms. Turn dough out onto a floured surface and pat into a 12 inch diameter disk. Cut the dough into 6 wedges. Place wedges on a baking sheet. Brush wedges with remaining cream and then sprinkle with sugar. Bake for 25 minutes until wedge are golden and they are firm to touch.
Meanwhile while the cakes are baking, combine the strawberries with the Cedar Run Farm Pure Maple Syrup in a bowl. Allow to macerate while the cakes are baking allowing the juice of the strawberries to marry with the syrup.
To make the fresh whipped cream, first chill your mixing bowl and beater for at least 15 minutes in the freezer (this will shorten the time you will spend beating the cream). Once, the bowl and beaters are chilled, combine the cream and powdered sugar in it then beat at high speed for 2 minutes. Stop and add the vanilla. Continue beating the mixture 1 to 2 minutes more. Stop promptly when soft peaks form.
To assemble the shortcake, slice a cake wedge in half, layer slices of cake with strawberries and then top with the whipped cream.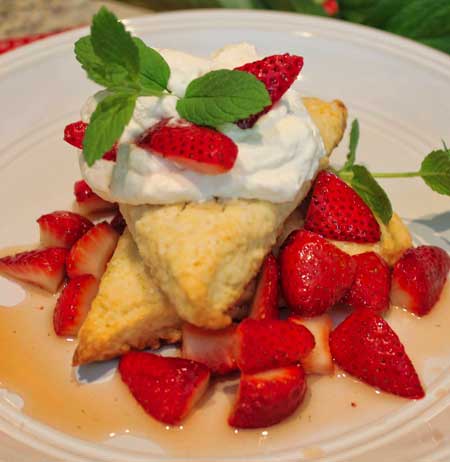 This recipe is from Cedar Run Farm - https://cedarrunfarm.com