Event Calendar
Cedar Run Farm Open House
Saturday, March 20, 2021 from 10:00 a.m. until 2:00 p.m.
Learn how pure maple sap is collected, evaporated, and bottled.
At our SUGARHOUSE LOCATION:
3305 Clark Ridge Road
Sisterville WV (Just outside Friendly, WV)
Pull on your boots, load up the family, and come visit us for an afternoon of education, fun, and best of all, some delicious West Virginia pure maple syrup! Learn how we tap our trees, collect the maple sap, boil it down to a rich, thick syrup and get it packaged for you to take home. We will be featuring tours of the woods and sugar shack throughout the event.
Food will be provided by the Boxcar Restaurant, (located in downtown St Marys), and will include some of our favorite maple syrup recipes. We will also be selling bags of our maple cotton candy and maple lattes. Yum!
Come learn how maple syrup is made and pick up a bottle of this season's freshest from Cedar Run Farm. Please note the location of our sugar shack. THIS IS NOT OUR CHRISTMAS TREE FARM. Wear boots if you plan to tour the woods to see the tap lines. Tours are free, no reservation required, and kids are welcome!!
Groups welcome, but please call ahead.
For directions, visit our Contact Us page.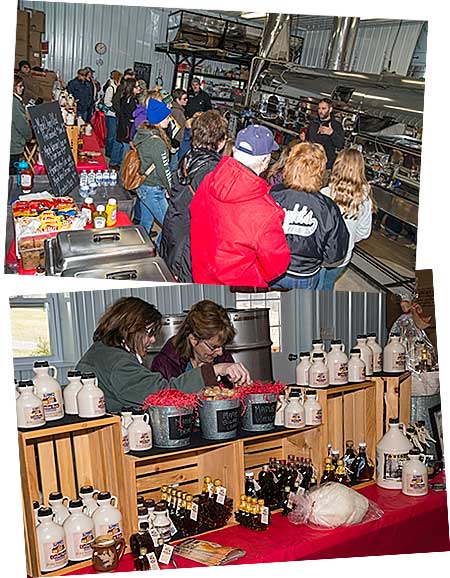 Cedar Run Farm Fall Market
October 17,2020 9am - 3pm
Cedar Run Farm Maple Syrup Farm Sistersville, WV
Come join us on our maple farm this fall for an open air, on farm market. We will be hosting woods/sugarhouse as well as video tours. Tours to the woods and of the sugarhouse will be at 10:30 a.m., 12:30 p.m. and 1:30 p.m. Please plan to wear appropriate footwear for this tour and be able to make the walk to the woods. For those who are unable to walk for the tour we will have a video tour that will be played throughout the day. We will be serving breakfast from 9:00 a.m. until 12:00 p.m. You may purchase this meal before you head out for the tour!! We will have retail sales of our maple products, crafts from our family artisans, fresh apple cider, homemade caramel apples, maple cotton candy, maple Italian cream sodas, and maple lattes. Grab a photo with our 1949 Ford truck decorated for fall.
The day will be a great fall experience for all. Hope to see you there!!
For directions, visit our Contact Us page.
Christmas Shop
December Hours: Dates for December 2020 to be announced
Cedar Run Farm Friendly, WV
Featuring choose and cut as well as pre cut trees. We will also open our Christmas Shop with our pure maple syrup and hand-crafted gifts. Get family pictures with our sleigh and Christmas trees and get some complimentary hot chocolate. We love to be a small part of families making Christmas memories together and watching them start their own family traditions. All of us at Cedar Run Farm hope to see you this Christmas season!
For directions, visit our Contact Us page.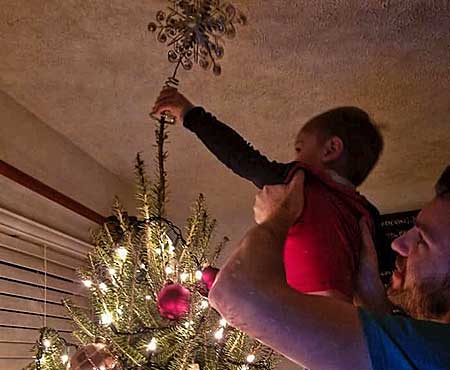 Minted Vintage Market 2020
October 3, 2020, 10am - 4pm
Wood County 4H Camp
This unique open-air shopping event showcases local artisans and small businesses. Join us for a fun day of fall shopping! The Minted Vintage Market is a curated collection of local talent that can be found in the Mid-Ohio Valley area and beyond. The event is located on the grounds of the Wood County 4-H Camp and will happen rain or shine. Vendors will be set up inside and around a beautiful, rustic barn. This family-friendly event also has live demos by local artists/makers going on throughout the day. Event hosts, John + Megan from The Minted Vintage are so excited to gather together some of the best small businesses around! Join them for this fun, community event to kick off fall on October 3, 2020 from 10am-4pm.
Annual Harvest Moon Arts & Crafts Festival
September 2020 - CANCELLED
Parkersburg City Park, Parkersburg, WV
Admission: $3.00 General, $2.00 Senior Citizens (60+) and 10 & Under Free
This is a great event with over 175 artists and craftsmen featuring their handcrafted items and demonstrating their art form. There will be West Virginia food items, like pure maple syrup from Cedar Run Farm, concessions stands, and live entertainment! Debbie and Betsy often have their own handcrafted items for sale, so be sure to stop by and check out our booth.
Website
Directions